Aging in a Familiar and Vibrant Place
Evolving from the term "aging in place," industry leaders have learned that seniors who have lived in urban and densely populated suburban areas want to stay there. They want to be close to family and friends and continue to enjoy the culinary and cultural delights they have known for many years. They do not want to leave behind what is familiar and what has been vibrant in their lives.
Maybe they're still active and capable drivers who enjoy a night of dinner and theater or a pub crawl with friends. Maybe they're out and about with a cane or walker and still want to enjoy a matinee Disney or action movie with grandkids. Maybe they use a wheelchair and look forward to regular lunch dates or art fairs with pals.
It's the same for those who prefer rural or small-town living. Being close to family and friends, going to familiar places, and enjoying local customs and events all contribute to quality of life.
And for seniors who decide to leave their old lives behind and move across country to be closer to adult children and grandchildren, today's senior living communities are designed and managed to help open the door to new friends as well as favorite and new experiences.
Straight Up, Sprawl Out, or Rehab
A major trend in urban areas is to build up. The cost of land in urban areas prohibits the development of expansive resort type communities.
One model involves creating 4 to 6 independent living apartments in a two to four story building. Apartments are built over parking, the corridors are short, and elevators are near all apartments.
In some cases, senior living apartments are built over retail space. This provides additional income to either the senior community company if it owns the space, or to the retailer.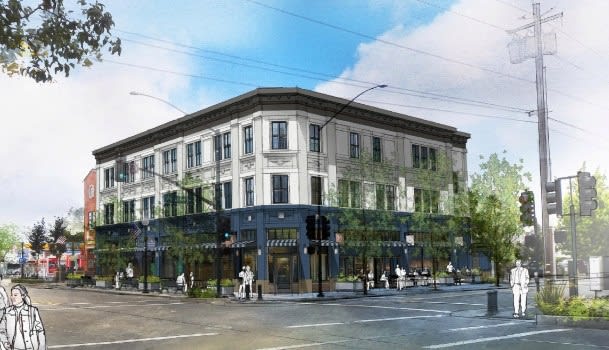 Another model for urban areas is to rehab a building or repurpose it for independent or assisted living senior housing. Tall apartment buildings in large cities have been repurposed to accommodate independent seniors and those needing minimal assistance.
Turning hotels or motels into senior living communities is a growing trend. Two hotel rooms are often remodeled into a one-bedroom apartment with a kitchenette. These projects are often in ideal locations close to urban areas, have amenities like swimming pools, exercise rooms, and open common areas that can be converted into community spaces for a variety of uses: library/coffee shop, game room, TV/Theater area, etc.
Speak with an Eldercare Advisor about your Senior Living needs:
573-544-0745
In rural, small town, and small city areas there is room to sprawl out, plus the price of land is saner than in the cities. It's not unusual for such areas to have "pocket neighborhoods." These are free standing buildings that together serve a varied clientele, from independent living, to assisted living, to memory care.
Some may include skilled nursing and hospice structures either owned by the same parent corporation or partnered with a separate corporation. Finally, an important message Boomers are giving is that they want to be in more age-integrated areas and not reside in an "elders only" locale. There's something to be said for being close to community parks, downtown areas (even if small), and nearby colleges.
Trends
Folks in the market for senior housing seem to fall into two groups: those who want a resort-like experience for their independent living options and those who want a home-like atmosphere for independent living and beyond. Architects and designers have plenty of options to offer, and they vary depending on geographical location and the preferences of people in those areas. Some of them are familiar because we already see them in many communities; others are part of the near future.
Dual-Purpose Design
Benches that double as foot rests or coffee tables
Free standing furniture and wall accessories with more storage
Lounge chairs with tablet arms to hold refreshments or offer a place to write
Areas that can be easily partitioned off for various purposes
Combining library space with a coffee house
Indoors
Less wood furniture because it takes a beating with the kind of cleaning required in community living
Non-wood furniture options because there is decreased need for replacement, it's easier to clean, and it has clean lines
Solid finishes because it's easier to clean and often preferred by residents and guests
Fireplaces, especially see-through ones that can be enjoyed from various areas
High coffered ceilings
Small, intimate seating areas placed throughout common areas
Multiple dining areas and flexible dining hours
Mid-century modern furniture design is becoming popular in some areas because of its uncluttered look. (That said, some of us will always prefer to sink into an oversized reading chair or comfortable couch for as long as we can still get in and out of them by ourselves.)
Open and comfortable common areas that can be used with family and friends
Muted colors
Accent pieces that reflect local culture and history
LED lighting saves energy and it is being used more "to create healthy sleep patterns and reduce anxiety by aligning lamp color temperatures with residents' circadian rhythms." (www.bdcnetwork.com/senior-living'design-trends-2018)
Outdoors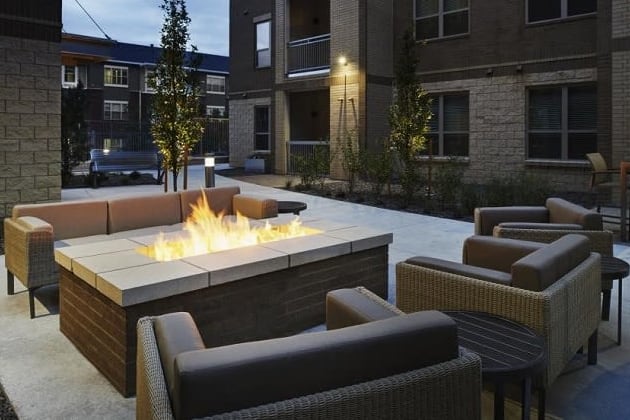 More fireplaces, fire pits, or fire pots. There must be something about outdoor flames that touches a primal spot in many of us…or reminds us of childhood s'mores…or helps us hold on to special romantic moments. Just sayin'.
Infinity pools. Probably not so much in Missouri or Minnesota, but I'm sure that's a favored trend in warm weather independent living communities. Maybe koi ponds or fair-weather water fountains for those of us in cooler climates. Water, in some decorative form, is a very soothing experience for many
Designing outdoor space to provide a variety of activities: gardening, socialization, fitness, and sports
Easy access to nature with extended walking trails, benches along trails, and outdoor group gathering seated areas
Larger secured outdoor areas for memory care communities
Outdoor dining areas or venues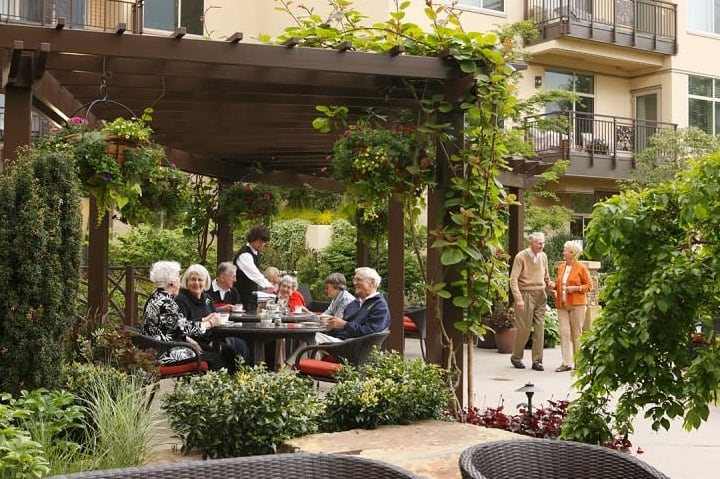 Ready for the new "extras," many of which are already in place in some areas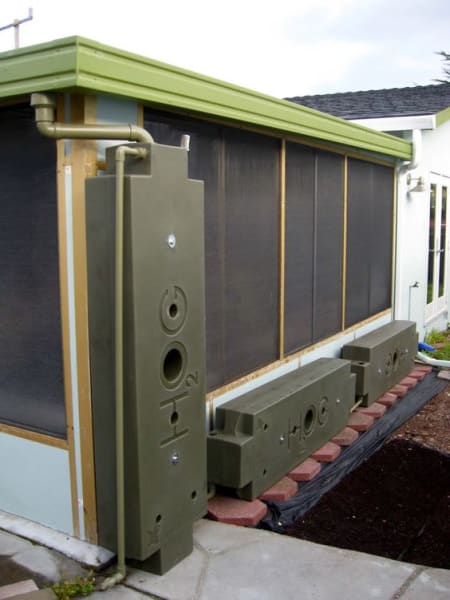 Premium parking space for hybrid cars
Using Uber and Lyft for appointments and shopping
Rooftop gardens
Composting
Geothermal heating
Rain water collection for use in gardens
Native habitat landscaping for water conservation
Community-wide recycling
Solar Panels
Increased Integration with the Community-at-Large
Have public facing areas like exercise rooms, hair salons, coffee shops, or cafes rather than having these areas sequestered inside
Having a multifunctional space or a small theater-like area that can be shared with community groups: scouts, acting or improv classes, art classes, craft fairs, poetry readings, etc.
Providing opportunities for residents to give back to the community-at-large: kitchen areas for residents to bake goodies for local police and fire personnel; space to sponsor donation events (food and supplies for animal shelters, school supplies for low income families, gently used clothing and shoes for charity resale shops, canned and boxed goods for food pantries, etc.) These opportunities can be shared with residents' family members and friends…community helping community.
Enhancement of Employee Retention
Attracting, training, and keeping great staff is an ongoing challenge for senior communities, so much so, that this has become an additional focus in design for senior living communities.
Having plenty of work space devoted to staff: roomy work stations, adequate storage for supplies and having supplies located where staff use them, and well-equipped maintenance shops
Relaxing break and meal space both indoors and out with comfortable seating (and free meals, of course!)
Larger office areas for administrators and managers so that 3-5 people can easily meet for consultations and there is plenty of storage space for supplies and records
A large meeting room for training and conference time
A child care facility on campus…a HUGE staff incentive for communities that can incorporate this idea
Emphasis on Mind and Body
Much of what designers strive for includes the concept of mind and body wellness. That's why there's such an emphasis on varied indoor and outdoor space. Years ago, a workshop and a crafts room seemed adequate.
Times and expectations have changed. Today's seniors walk, bike, enjoy yoga and tai chi, cook, create art, dance, play instruments, garden, swim, have pets, want quality time with family members of all ages, and desire intellectual stimulation.
Today there is an emphasis to create space, hire staff, and acquire volunteers so that residents at all levels can engage in purposeful activities and experiences to enhance their minds and strengthen their bodies as much as possible. This is being done at multi-building campuses as well as individual skilled nursing buildings.
Thankfully, with the creative skills of architects and design firms who work with senior housing options, the term "facility" is being replaced with "community" on an ever-expanding level. Whether it's resort-style living on the coast or hometown hospitality in the Midwest, an enhanced sense of community through design efforts benefits everyone. It enhances quality of life for residents and their families and provides meaningful employment and quality work space for staff and administrators.
Ideas?
What trends in senior living have you seen that you think are ideal? What new or inventive amenities would you like to see become standard offerings?
Resources:
bdcnetwork.com/senior-living-design-trends-2018
Nydree Floor 2018 Design Trends: Shifts in Senior Living
kwalu - The Top Senior Living Furniture Trends
About the Author: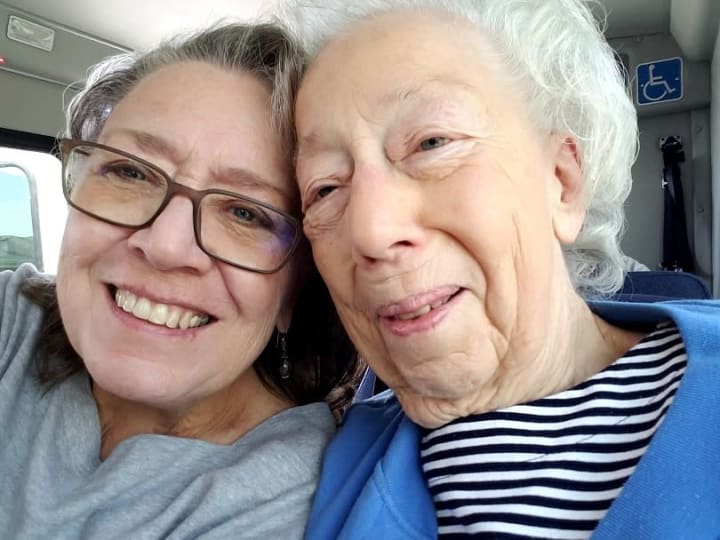 Jenny Mummert, M.Ed., has a career background in higher education. She lives in mid-Missouri and has managed the care of her elderly parents, both of whom had dementia and lived 400 miles away. Her personal blog, "Drifting Toward Planet Elderly," serves as therapy, a family history, and a case study of her family's journey with dementia. Jenny's mother now lives in Mid-Missouri where they enjoy daily morning coffee and chat time with friends at The Arbors at Mill Creek Village.